Intervene, position, communicate. Adult education and the public.
20th DIE-Forum Continuing Education 2017
The 20th DIE-Forum Continuing Education took place on December 12, 2017 at the Catholic Social Institute on the Michaelsberg in Siegburg. Here you can find the booklet accompanying the event with information on speakers, working groups and topics (German only):
DIE-Forum Continuing Education 2017 - Interfere, position, communicate. Continuing education and the public sphere.
Constructive argument is a necessary foundation of democratic coexistence and, at the same time, a constant challenge for the culture of public debate. Organized continuing education is part of this culture of debate by creating spaces for debate and practicing argumentative disputes or by taking a public stance itself on current issues. The lively discussions at last year's DIE-Forum have prompted us to shed light on the contribution of adult education to the formation of public and democratic opinion and knowledge.
Thomas Krüger, President of the Federal Agency for Civic Education, opened the DIE-Forum with a presentation on "#Democracy: What can, may, must political education for adults?" He described challenges for political education that arise from the changing conditions and structures of the public sphere. His keynote was a plea for promoting the culture of debate and arguing with one another. The article presented here took its origin in the keynote and has now found its way into the new issue of "weiter bilden. DIE Zeitschrift für Weiterbildung" with the issue title "Debatte".
In a total of four working groups, different foci were directed at the topic of the public sphere and adult education: the role of adult education for the public sphere from a historical perspective, the current challenges in the face of digital public spheres, continuing education institutions as part of the public discourse, and places of the public sphere. The contributions were a successful mixture of practice and science and offered space for intensive and lively exchange between the experts and the participants.
The event concluded with a "Philosophical Café" moderated by philosophical practitioner Markus Melchers. With short statements on the topic "Between 'Speech Prohibitions' and 'It's still okay to say that': How Much Controversy Does Adult Education Need?" he set in motion a lively discussion about the limits of what can be said in general and in the context of adult educational practice. In the course, the difference between acting as a professional and as a private person was reflected upon and the difference between truth, truthfulness and legitimacy was emphasized, the boundaries of which seem to become increasingly blurred in today's culture of debate. This was a successful conclusion to the event, which not only had "publicity" and "debate(n culture)" as its substantive focus, but also carried it out in practical terms - in keeping with the tradition of the conference venue, the former Michaelsberg Abbey in Siegburg, the new home of the Catholic Social Institute. It was exciting to see that the participants continued the discussions in small circles even after the official end, so that this year's DIE-Forum can be seen more as an interim conclusion than as a summary of an important debate within adult education and beyond.
These were the four working groups
WG 1 From the public - for the public. Continuing education over time
The emergence of the current landscape of providers and institutions can be traced back to the social and educational policy debates of the 1960s and 1970s. As a result, continuing education was established as a public responsibility, which is still the raison d'être for many institutions today. Today, there are also a large number of institutions that claim an "educational mandate" for themselves beyond this governmental embedding. In the 1970s and 1980s, for example, many institutions were founded in the context of the New Social Movements that saw themselves as part of the public sphere, even as a "counter-public" and, in this sense, carried out "different" educational work.
How did this educational mission between "public sphere" and "counter-public sphere" change over time? Which debates and discourses were formative? How were the institutions influenced in their educational work? What positions did public, denominational or independent institutions take? How has the role of organized adult education in the public sphere changed as a result? And how is this reflected in current debates and positions?
From left to right: Detlef Vonde (Bergische Volkshochschule, Solingen-Wuppertal), Matthias Alke (DIE), Susanne Maurer (Philipps-University Marburg), Andreas Seiverth (formerly German Protestant Association for Adult Education, DEAE).
WG 2 Mixing in. Digital public sphere and challenges of adult education
The digital space is increasingly establishing itself as a public place where exchange, discussions and opinion-forming take place and new forms of interference, engagement and political participation are made possible. At the same time, the digital space also generates a destructive force in that discourses proliferate and are fueled here under the protection of anonymity. Although social media in the digital space are able to bring people together over great geographical distances, they also undermine social cohesion in the face of fragmenting discourses through a multitude of partial publics. Participation, network education and media literacy are therefore becoming key challenges in the wake of an increasingly digital public sphere.
How can the digital participation of adults be supported? What skills do they need to exchange and interact online? What contribution can adult education make here?
From left to right: Jochen Robes (Consultant Human Resources, Corporate Learning), Tine Nowak (University of Cologne), Caja Thimm (Rheinische Friedrich-Wilhelms-Universität Bonn), Peter Brandt (DIE)
WG 3 Positioning. Standpoints of adult education in public discourse
Adult education has returned to public attention in the course of the debates about the integration of refugees. On the one hand, it has been made the subject of public debate and, on the other, individual institutions or associations have become actively involved in the debates about adult education tasks and questions of feasibility. In this respect, organized adult education actively shapes the public sphere and influences socio-political discourses.
Through which measures and topics does it help to shape the public sphere and exert influence on debates? Which interests does it represent and on which topics does it position itself? How do actors from the different fields of adult education perceive their role? How can the different actors (e.g. institutions, associations, networks, science) initiate discourses and contribute to an appropriate culture of debate?
From left to right: Walter Würfel (Federal Association of Sponsors of Vocational Education), Ulrich Aengenvoort (German Adult Education Association), Prof. Dr. Ralph Bergold (Catholic Social Institute, Siegburg), Dr. Sabine Fandrych (Friedrich Ebert Foundation, Bonn), Dr. Sarah Widany (DIE)
WG 4 Understanding. Adult Education as a Space for Public Encounter and Debate
One of the declared goals of adult education is to enable people to stand up for their interests and to participate in public discourse, for example by establishing forums for encounters, exchange and discussion, or by offering education, knowledge transfer and competence development.
The working group focuses on the spaces for public exchange created by adult education and addresses the following questions: For which topics does adult education create a public sphere? What are the current and future challenges? What role can and would adult education like to play and where are the limits? How tolerant can and may organized adult education be, what must it endure? What current experiences, projects, practical examples are there?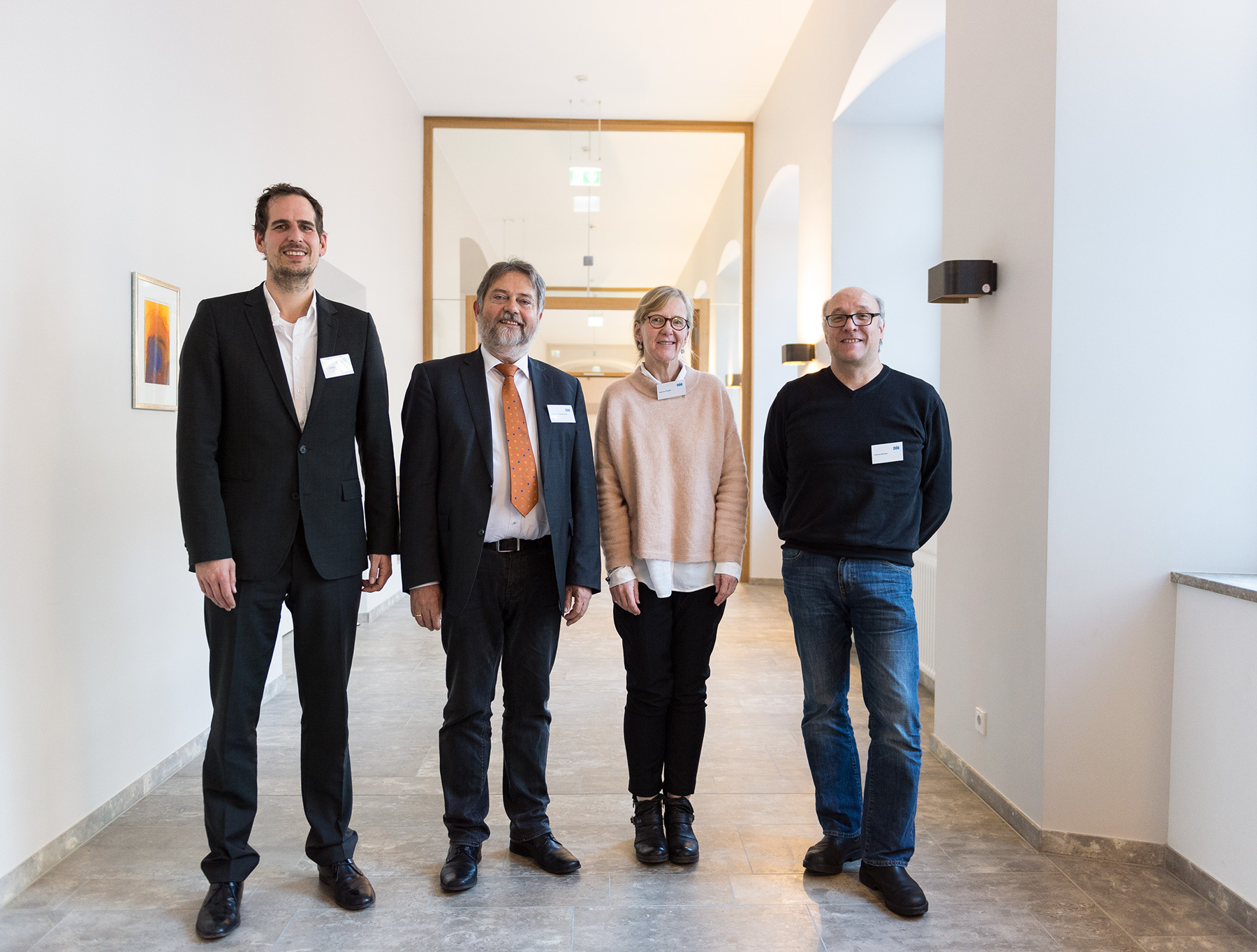 From left to right: Jan Rohwerder (DIE), Dr. Joachim Twisselmann (Evangelisches Bildungs- und Tagungszentrum Bad Alexandersbad), Dr. Sabine Koppe (Kreisvolkshochschule Vorpommern-Rügen), Prof. Dr. Helmut Bremer (University of Duisburg-Essen)
Contact
Kurzlink zu dieser Seite:
die-bonn.de/li/2031